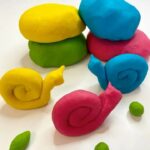 You probably know what dough is and what it is for. Of course, bread and various delicious muffins are baked from the dough. But did you know that there is also toy dough? From this dough, you can sculpt a variety of figures, and then paint them with bright colors. These small sculptures can be stored on the shelf for a long time. After all, over time, the dough for modeling becomes hard as a stone.

How to knead toy dough
To prepare a toy dough for modeling figures, you need to do the following. Take one Cup of flour, half a Cup of table salt, and two tablespoons of sunflower oil. All this will need to be thoroughly mixed. Now we need food coloring, which we will dilute with water and add to our mixture. After that, knead it until you get the desired consistency. Toy dough should not be too liquid or very tight. Knead it to such a state that it is easy to sculpt figures from it, as if from soft plasticine.
But unlike plasticine toys, figures made of dough will not soften in the heat and will not melt in the sun if you accidentally forget them on the windowsill. Toy dough can be made in different colors. Or you can make it white and color your craft later.
Figures from the dough can also be made edible. But this is not a culinary product. Although cooking them is also very interesting.

Edible dough figures
From edible dough, you can make various figures out of plasticine, and then eat them. The dough is prepared in the following way.
Take two cups flour, four cups oatmeal, one Cup water, one Cup syrup, one Cup of peanut butter, half Cup of non-fat dry milk and half Cup of sugar. Then mix the flour and oatmeal, add water and mix well. Then add all the other prepared ingredients to the resulting mixture and knead the dough. If it turns out a little runny, then add more flour.

Everything can now be molded from edible dough figures, and then decorate them with nuts, sweets, seeds, pieces of chocolate, and so on. These figures can be served to the table for a holiday. I'm sure your friends will love them.